ACRES 14th Anniversary Gala Dinner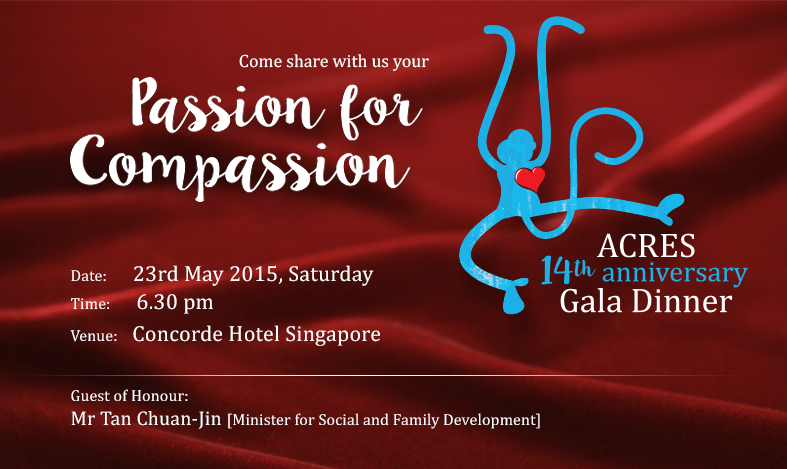 It's time for our annual Gala Dinner birthday bash- our biggest fundraiser of the year. Join us as we celebrate 14 years of advocating for an end to animal cruelty!
This year, we want to rewind back to the driving force we all have within us: compassion for the animals. Let's celebrate our compassion for others: the thing that makes a better and kinder world for all of us!
The 'Passion for Compassion', Gala Dinner will remind us of why we do what we do for our fellow Earthlings, and why we must keep on giving them a voice.
We have an array of entertainment lined up and stories to share that will warm your heart and tickle your funny bone, and stir up in each one of us even more passion for ending animal cruelty.
And we're raising funds for a very important cause: the newly established Animal Crime Investigation Unit, which will enable us to clamp down on animal cruelty and wildlife crime stronger than ever before.
We're delighted that Mr. Tan Chuan-Jin, Minister for Social and Family Development, will be the Guest of Honour. We hope you will join us too, for a night of enjoyment, compassion and fun, all for the animals!
If you can't make it, please do tell your friends and family about the Gala Dinner, and donations towards the Animal Crime Investigation Unit are gratefully received.
Mr. Tan Chuan-Jin
Minister for Social and Family Development
(You will receive a 300% tax exemption for the cost of your tickets & donations)
For Tickets, please choose here: